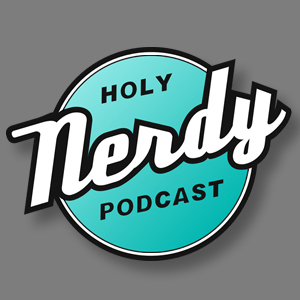 On this bonus episode of the Holy Nerdy Podcast, we take a look back at the one 90's cartoon that crafted us into the men we are today, "Ren and Stimpy". A "kids show" that was far ahead of its time, as was its creator John Kricfalusi. We delve into John Kricfalusi's humble beginnings in the horrible 1970-80's animation industry before he crafted his magum opus. Finally we give our audio commentary on the episode that got him fired by Nickelodeon for being too crazy for kid's TV, "Man's Best Friend". Join us for a really cool and interesting history lesson on the life and career of one of the craziest "old school" animators to ever live, filled with funny stories from his early days in the industry. This is going to be fun!
TOPICS
John Kricfalusi's Early Life
John Kricfalusi's Early Career In The Animation Industry
The Birth Of The Characters Ren And Stimpy
John Kricfalusi's Rocky Relationship With Nickelodeon
The Frustrating Executive Mindset At Nickelodeon
John Kricfalusi's Gets Fired From His Own Show Over Banned "Man's Best Friend" Episode
The Origins Of The George Liquor Character
Our Audio Commentary Of The Banned Episode "Man's Best Friend"
In Depth Look At This Episode
Christmas Ender
Ren & Stimpy Adult Party Cartoon Bonus Episodes
Caleb and I are currently preppring for our next "Bonus" episode detailing the history as well as audio commentary of the short lived and hugely divisive series featuring our favorite psychotic chihuahua and dimwitted cat, The Ren & Stimpy: Adult Party Cartoon. This next episode containing more history as well as commentary on the next episode in the series will be released as soon as we hit 10 Reviews on ITunes. Additional episodes after that will be released at 10 review intervals until we complete the animated series. We are really looking forward to these bonus episodes. We have done our homework and have compiled a treasure trove of backstory and history on creator John Kricfalusi including introductions for each episode from John K. himself.
Follow us on Social Media
You can call us and leave a funny voicemail at 806-680-6373. We might even play it on air if your lucky.