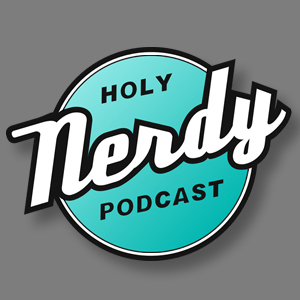 On this bonus episode of the Holy Nerdy Podcast, Caleb is up to bat, hosting solo for this one. He is not alone though, because joining him in the digital studio is his good friend Leo Rodriguez, and they spend the entire episode getting nerdy about the game of baseball. You see Leo is currently on the path to becoming a tride and true bonafide professional baseball player! They discuss what its like living the true baseball life, all the while laughing, enjoying some damn good brownies (No, not those kind!), and discussing what the future holds for this truly remarkable athlete.
TOPICS
Welcome To The 2018 MLB Draft
From College To Pros
Taking A Hit For The Team
Mental Toughness
Does This Book Have Pictures?
Burnt Chicken Wings!
Yoga Is A College Course!?
These Brownies Are Too Damn Good!!!
Leo's Song
Leo Is Spider-Man
Raw Talent
Ren & Stimpy Adult Party Cartoon Bonus Episodes
Caleb and I are currently preppring for our next "Bonus" episode detailing the history as well as audio commentary of the short lived and hugely divisive series featuring our favorite psychotic chihuahua and dimwitted cat, The Ren & Stimpy: Adult Party Cartoon. This next episode containing more history as well as commentary on the next episode in the series will be released as soon as we hit 10 Reviews on ITunes. Additional episodes after that will be released at 10 review intervals until we complete the animated series. We are really looking forward to these bonus episodes. We have done our homework and have compiled a treasure trove of backstory and history on creator John Kricfalusi including introductions for each episode from John K. himself.
Follow us on Social Media
You can call us and leave a funny voicemail at 806-680-6373. We might even play it on air if your lucky.