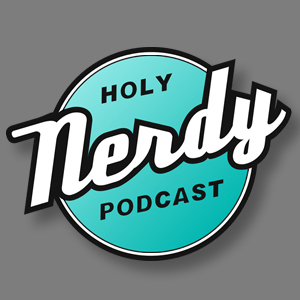 On this episode of the Holy Nerdy Podcast, it's been one hell of a week for us behind the scenes. Caleb's kids have the cold and the flu so we are going to keep it short and sweet this week. We start of with a "Surviving Survivor" recap. We were about five or so episodes behind so this is an all encompassing review which gets real political real fast. Finally to close out the show, we have a giant sized "DC Dickdown" filled to the brim with DC news stories from the past couple of weeks including, "Batman" castings, Nightwing's "Titans" suit reveal, Black Adam news bits, Wonder Woman love, and how the recent DC Universe doesn't totally suck.
TOPICS
Crazy Week
"Surviving Survivor With Chris"
MeToo Setback and White Privilege
Too Political
"DC DickDown"
DCTV Doesn't Totally Suck This Year!
AT&T Doesn't Care About Comics
Batman Beyond Contest Coming Soon!
Black Adam And The JSA
We Love Us Some Wonder Woman
"The Batman" Castings
Driving A Lincoln
Go Crazy
"Titans" Nightwing Suit Reveal
"Titans" Season 2 Is Pretty Solid
Follow us on Social Media
You can call us and leave a funny voicemail at 806-680-6373. We might even play it on air if your lucky.