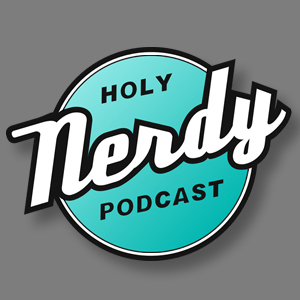 On this episode of the Holy Nerdy Podcast, Caleb informs Chris of all the Jackass-like antics he missed out on after moving to Dallas. From smacking "friends" in the nuts until they passed out, to competing in milk chugging competions which always resulted in projectile vomiting for all participants, they took being juvenile to a whole new level . After the break Caleb presents the first in what we are calling "VUDU Reviews", where Caleb reviews movies that Chris has given him the VUDU codes for. This week he reviews "Wonder Woman" and "Spider-Man: Homecoming".
TOPICS
Caleb Is A Real "Giver", Or At Least He Thinks He Would Be
Summer In Christmas At The Beach
The "True" Beach Experience Cannot Be Duplicated
MTV's Jackass Had A Profound Influence On Caleb's High School Years
How Not To Bleach Your Hair
The Effects Of Passing Out
The Ol' Piss In The Beer Bottle Gag
The Joy Of "Antiquing"
Milk Chugging Contest
Exorsist Level Vomiting
Nut Shots Galore
Scheisse Essen Award
VUDU Review: Wonder Woman
VUDU Review: Spider-Man Homecoming
Ren & Stimpy Adult Party Cartoon Bonus Episodes
Caleb and I are currently preppring for our first "Bonus" episode detailing the history as well as audio commentary of the short lived and hugely divisive series featuring our favorite psychotic chihuahua and dimwitted cat, The Ren & Stimpy: Adult Party Cartoon. We will be releasing the first episode for free on December 27th. The next episode containing more history as well as commentary on the next episode in the series will be released as soon as we hit 10 Reviews on ITunes. Additional episodes after that will be released at 10 review intervals until we complete the animated series. We are really looking forward to these bonus episodes. We have done our homework and have compiled a treasure trove of backstory and history on creator John Kricfalusi including introductions for each episode from John K. himself.
Follow us on Social Media
You can call us and leave a funny voicemail at 806-680-6373. We might even play it on air if your lucky.