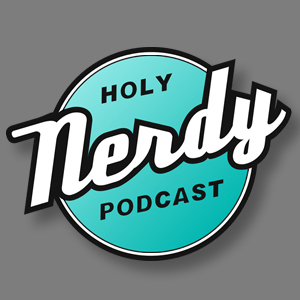 On this episode of the Holy Nerdy Podcast, joining us in our digital studio is fellow podcaster Rocky Socha of the "What's The Fuss Podcast". I take a back seat as Rocky and Caleb talk about something I have absolutley no knowledge in, Punk Rock music. These two are punk rockers to the core and it really shows. You see, these two have a pretty strange connection to each other. They both had the chance to meet one of their favorite punk bands, NOFX, just hours apart from each other, but had two vastly different experiences. One lived the punk dream, the other one, well..... Got punked.
TOPICS
Rocky Socha From "What's The Fuss Podcast"
ALF Returns
Podcast Mafia
The Punk Life
Fuck The Government
Caleb And Rocky's Shared NOFX Experience
Doing Drugs, Eating Cake, And Drinking Piss
Pampa Punk Rock
Tom And Dan Dick Sucking Session
Caleb's Story
Rocky Is Cool....Caleb Not So Much
The Aftermath
The Punk Attitude
Random Shit
Space Ghost
SNL
Ren & Stimpy Adult Party Cartoon Bonus Episodes
Caleb and I are currently preppring for our next "Bonus" episode detailing the history as well as audio commentary of the short lived and hugely divisive series featuring our favorite psychotic chihuahua and dimwitted cat, The Ren & Stimpy: Adult Party Cartoon. This next episode containing more history as well as commentary on the next episode in the series will be released as soon as we hit 10 Reviews on ITunes. Additional episodes after that will be released at 10 review intervals until we complete the animated series. We are really looking forward to these bonus episodes. We have done our homework and have compiled a treasure trove of backstory and history on creator John Kricfalusi including introductions for each episode from John K. himself.
Follow us on Social Media
You can call us and leave a funny voicemail at 806-680-6373. We might even play it on air if your lucky.