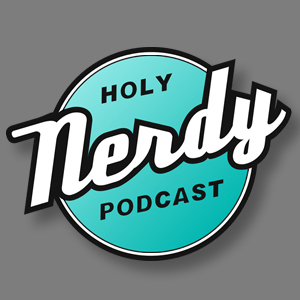 On this episode of the Holy Nerdy Podcast, we want to ring in this new year with an episode in which we discuss our New Year's Resolutions. The talk gets semi-serious when I bring up a form of social anxiety that I personally battle with on a daily basis and my resolution to finally beat it into complete submission this year. Caleb too has his own resolutions, but his are more show growth related, but those too mean big changes as well. After that Caleb tells me about an interesting trip to the neurologist and an accident afterwards that left him with a hilarious new "below the belt" injury.
TOPICS
What We Did For New Years Eve
The Hell At Time's Square
Chris' New Year's Resolution
Chris' Social Anxiety Problem
How I Can Fight It
Caleb's New Year's Resolution
ALF Pop In To Say Hi
Caleb Visits The Neurologist (Quack)
Caleb's Hilarious Workplace Accident
Taint Flaps
Ren & Stimpy Adult Party Cartoon Bonus Episodes
Caleb and I are currently preppring for our next "Bonus" episode detailing the history as well as audio commentary of the short lived and hugely divisive series featuring our favorite psychotic chihuahua and dimwitted cat, The Ren & Stimpy: Adult Party Cartoon. This next episode containing more history as well as commentary on the next episode in the series will be released as soon as we hit 10 Reviews on ITunes. Additional episodes after that will be released at 10 review intervals until we complete the animated series. We are really looking forward to these bonus episodes. We have done our homework and have compiled a treasure trove of backstory and history on creator John Kricfalusi including introductions for each episode from John K. himself.
Follow us on Social Media
You can call us and leave a funny voicemail at 806-680-6373. We might even play it on air if your lucky.