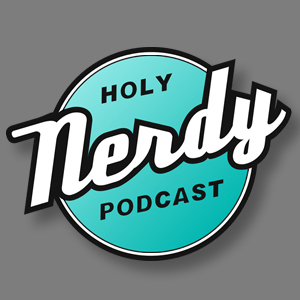 On this episode of the Holy Nerdy Podcast, Caleb and I decided it would be fun to take a look at the upcoming slate of "nerdy" movies coming up in this year in 2018. From big comic book tentpoles like Black Panther, Avengers: Infitiny War, Aquaman, and Deadpool 2, to animated flicks like Incredibles 2, Wreck-It-Ralph 2, and Spider- Man: Into The Spiderverse. We cover them all. Some of these we are really excited for, and others, let's just say, not so much. Afterwards we take a look at the upcoming 2018 comic book conventions taking place in Dallas that we are super excited about.
TOPICS
Upcoming Movies of 2018
Black Panther
Pacific Rim: Uprising
Ready Player One
The New Mutants
Avengers: Infinity War
Solo: A Star Wars Story
Deadpool 2
Jurassic World: Fallen Kingdom
Incredibles 2
Antman And The Wasp
Alita: Battle Angel
Venom
X-Men: Dark Pheonix
Dr. Seuss' The Grinch
Wreck-It-Ralph 2: Ralph Wrecks The Internet
Spider-Man: Into The Spiderverse
Aquaman
Upcoming Dallas Comicbook Conventions of 2018
AllCon
Dallas ComicCon
KamehaCon
Upcoming Releases In 2018
Rocko's Modern Life: Static Cling
Batman: The Animated Series Bluray
Ren & Stimpy Adult Party Cartoon Bonus Episodes
Caleb and I are currently preppring for our next "Bonus" episode detailing the history as well as audio commentary of the short lived and hugely divisive series featuring our favorite psychotic chihuahua and dimwitted cat, The Ren & Stimpy: Adult Party Cartoon. This next episode containing more history as well as commentary on the next episode in the series will be released as soon as we hit 10 Reviews on ITunes. Additional episodes after that will be released at 10 review intervals until we complete the animated series. We are really looking forward to these bonus episodes. We have done our homework and have compiled a treasure trove of backstory and history on creator John Kricfalusi including introductions for each episode from John K. himself.
Follow us on Social Media
You can call us and leave a funny voicemail at 806-680-6373. We might even play it on air if your lucky.