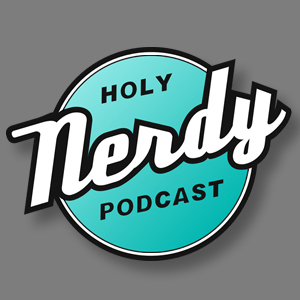 On this episode of the Holy Nerdy Podcast, it's another day, another guest, becasuse joining us for this one is our best friend and website builder, Jon McEwen. He's come to join in the fun as Caleb tells us a hilarious story about being caught red handed using his Boss's private bathroom, before talk turns to Stan Lee's recent trouble with allegations of sexual harassment. Finally we chat a bit about something Jon knows a lot about, the "dating" app Tinder. Jon walks us through a typical Tinder experience as well as giving a "detailed" account about his most memorable Tinder Match ever.
You Can Reach Jon At
Email: CassadyTeam@gmail.com
Website: www.Cassady-Team.com
TOPICS
Jon McEwen Is A Slave To Our Show!
Jon's Origin Story
Pretentious Assholes Ruin Everything
Getting Caught Shitting Up Your Boss's Private Bathroom
Stan Lee Is A Pervy Old Man
Being Flawed Humans
Jon's Depressing View On Relationships After 30
Jon's Tinder Experience
She Was A Pro At Tinder
The Build Up
The Story Is Only Dirty Bacause Of Our Commentary
The Moral Of The Story Is.......
We Going To Be "Off The Table!!"
Ren & Stimpy Adult Party Cartoon Bonus Episodes
Caleb and I are currently preppring for our next "Bonus" episode detailing the history as well as audio commentary of the short lived and hugely divisive series featuring our favorite psychotic chihuahua and dimwitted cat, The Ren & Stimpy: Adult Party Cartoon. This next episode containing more history as well as commentary on the next episode in the series will be released as soon as we hit 10 Reviews on ITunes. Additional episodes after that will be released at 10 review intervals until we complete the animated series. We are really looking forward to these bonus episodes. We have done our homework and have compiled a treasure trove of backstory and history on creator John Kricfalusi including introductions for each episode from John K. himself.
Follow us on Social Media
You can call us and leave a funny voicemail at 806-680-6373. We might even play it on air if your lucky.