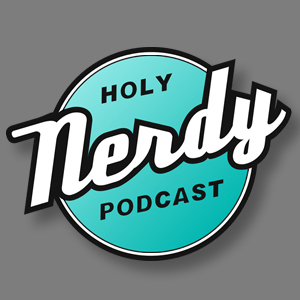 On this episode of the Holy Nerdy Podcast, it's our 64th episode, and we wanted to do something fun to concide with this number. We've decided to spend the entire episode talking about something that robbed us of many a weekend when we were kids. That something my friends was the Nintendo 64 video game console. This crazy piece of 90's tech hardware had a "Kung Fu Grip" on our childhood lives during its lifespan, and we wanted to look back at our fond memories of one of Nintendo's masterpieces and the effect it had on us. This is our "Top 5" N64 videogames list.
Topics
Chris #5 - Goldeneye 64
Caleb #5 - Goldeneye 64
Chris #4 - Pokemon Snap
Caleb #4 - Mario Party
Chris #3 - Super Smash Bros.
Caleb #3 - Star Fox 64
Chris #2 - Super Mario 64
Caleb #2 - Harvest Moon
Chris #1 - Legend of Zelda: Ocarina Of Time
Caleb #1 - Super Smash Bros.
Ren & Stimpy Adult Party Cartoon Bonus Episodes
Caleb and I are currently preppring for our next "Bonus" episode detailing the history as well as audio commentary of the short lived and hugely divisive series featuring our favorite psychotic chihuahua and dimwitted cat, The Ren & Stimpy: Adult Party Cartoon. This next episode containing more history as well as commentary on the next episode in the series will be released as soon as we hit 10 Reviews on ITunes. Additional episodes after that will be released at 10 review intervals until we complete the animated series. We are really looking forward to these bonus episodes. We have done our homework and have compiled a treasure trove of backstory and history on creator John Kricfalusi including introductions for each episode from John K. himself.
Follow us on Social Media
You can call us and leave a funny voicemail at 806-680-6373. We might even play it on air if your lucky.