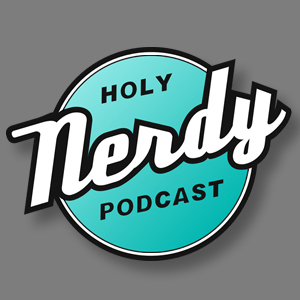 On this episode of the Holy Nerdy Podcast, joining us in the digital studio is our guest and friend, Chris Holm from the "Conspire A Theory Podcast". Chris has joined us on our show to chat about two things that he is really nerdy about; Being a comic book artist and Furries. What's a Furry you might ask? Well Chris is here to drop some real furry knowledge and some funny stories about this misunderstood culture and community. After the break we take a trip to the hidden nation of Wakanda to give our review and thoughts on Marvel Studio's most recent smash hit, Black Panther.
Subscribe to The Conspire a Theory Podcast - https://www.podomatic.com/podcasts/conspireatheory
TOPICS
Chris Holm Joins Us
Caleb's History With Chris Holm
The "Furries"
Caleb's History With "Furries"
Chris Holm's "Furry Horror Story"
"Furry" History
Howard The Duck and The Duck Boobs
Jeffrey Jones Is A Pervert
The Life Of A Comic Book Artist
Steam Punks Are Real Punks
Black Panther Review
Caleb's Interesting Theater Encounter
Ren & Stimpy Adult Party Cartoon Bonus Episodes
Caleb and I are currently preppring for our next "Bonus" episode detailing the history as well as audio commentary of the short lived and hugely divisive series featuring our favorite psychotic chihuahua and dimwitted cat, The Ren & Stimpy: Adult Party Cartoon. This next episode containing more history as well as commentary on the next episode in the series will be released as soon as we hit 10 Reviews on ITunes. Additional episodes after that will be released at 10 review intervals until we complete the animated series. We are really looking forward to these bonus episodes. We have done our homework and have compiled a treasure trove of backstory and history on creator John Kricfalusi including introductions for each episode from John K. himself.
Follow us on Social Media
You can call us and leave a funny voicemail at 806-680-6373. We might even play it on air if your lucky.