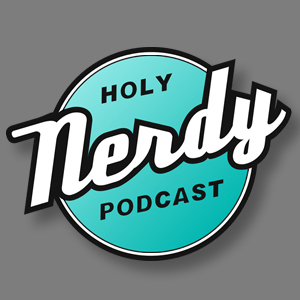 On this super episode of the Holy Nerdy Podcast, we continue of review/discussion of Dragon Ball Super's, final story arc: The Tournament of Power. The tournament is half- way over, and it's starting to heat up. Caleb seems to hate everything these days and it seems like this tournament is no different. From fusion, to little bug men, to a giant Godzilla sized biomechanical warrior, the show seems to be throwing everything but the kitchen sink at us. Hell, we're even surpised the kitchen sink wasn't a fighter from Universe 3! One thing is certain though, Caleb's hate on it, isn't ending anytime soon.
SPOILER ALERT!!!
Topics
Second Half Of The Tournament Of Power (Episodes 110 - 128)
Ren & Stimpy Adult Party Cartoon Bonus Episodes
Caleb and I are currently preppring for our next "Bonus" episode detailing the history as well as audio commentary of the short lived and hugely divisive series featuring our favorite psychotic chihuahua and dimwitted cat, The Ren & Stimpy: Adult Party Cartoon. This next episode containing more history as well as commentary on the next episode in the series will be released as soon as we hit 10 Reviews on ITunes. Additional episodes after that will be released at 10 review intervals until we complete the animated series. We are really looking forward to these bonus episodes. We have done our homework and have compiled a treasure trove of backstory and history on creator John Kricfalusi including introductions for each episode from John K. himself.
Follow us on Social Media
You can call us and leave a funny voicemail at 806-680-6373. We might even play it on air if your lucky.