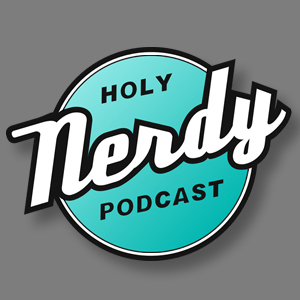 On this episode of the Holy Nerdy Podcast, we invited our good friend and creator of the web comic "Robot Friday", Thomas Clemmons, to hang out with us again and just shoot the shit about whatever came to mind. The talk quickly turned political and we spent a good portion of time discussing and laughing about the fallout from Roseanne Barr's infamous tweet that ended her popular show this past week. Then, when talking about the Walking Dead comic series, we came up with a brilliant way for Roseanne's show to continue on with a little help from the "Dude" and a whole lot of zombies.
TOPICS
Robot Friday Ad Bloopers
Recording Issues (Damn You Zencastr!!!)
How They Recorded Podcasts Back In Ye Olde 1990's
Things Get Political
Roseanne And Her Infamous Tweet
Send In The "Dude" To Save The Day
The Guys From The Big Bang Theory Are Just Like Us!
Young Sheldon Makes Fun Of Texans
The Asians Love Robot Friday!!
Americans..... Not So Much
Infinity War Won't Go Away
The Walking Dead
Brilliant Roseanne/Walking Dead Crossover Idea
ATTENTION
WE NOW HAVE A SPONSOR FOR THE SHOW!!! WELCOME ABOARD
THOMAS CLEMMONS AND HIS WEB COMIC SERIES ROBOT FRIDAY!!!
CHECK OUT ALL OF THOMAS'S WORK AT WWW.ROBOTFRIDAY.COM
Ren & Stimpy Adult Party Cartoon Bonus Episodes
Caleb and I are currently preppring for our next "Bonus" episode detailing the history as well as audio commentary of the short lived and hugely divisive series featuring our favorite psychotic chihuahua and dimwitted cat, The Ren & Stimpy: Adult Party Cartoon. This next episode containing more history as well as commentary on the next episode in the series will be released as soon as we hit 10 Reviews on ITunes. Additional episodes after that will be released at 10 review intervals until we complete the animated series. We are really looking forward to these bonus episodes. We have done our homework and have compiled a treasure trove of backstory and history on creator John Kricfalusi including introductions for each episode from John K. himself.
Due to the recent allegations involving John Kricfalusi, we have decided to release the remaining episodes in this series for free. Stay tuned for those bonus episodes in the near future.
Follow us on Social Media
You can call us and leave a funny voicemail at 806-680-6373. We might even play it on air if your lucky.