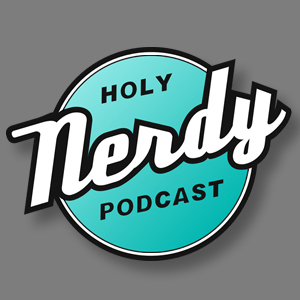 On this episode of the Holy Nerdy Podcast, we are celebrating the huge milestone of reaching "Episode 100" by throwing ourselves a ginormous pizza party and inviting our favorite past guests to join us in the festivities, share a slice, and talk about the only thing possible when having a pizza party of this magnitude, "Teenage Mutant Ninja Turtles." We welcome back Johnny Segura III, Thomas Clemmons, Chris Holm, Tiny Tim, and Eddie Medina, as they help us celebrate 100 episodes. We raise a slice of pizza to you gentlemen. Here's to the next 100 episodes. COWABUNGA DUDES!!!!
TOPICS
Caleb's Son Joins Us
Guest - Johnny Segura III
Johnny's Favorite Ninja Turtles Character
Guest - Thomas Clemmons
Why Thomas Thinks "Rise Of The Ninja Turtles" Is Good
Guest - Chris Holm
Why Chris H. Thinks "Rise Of The Ninja Turtles" Is Bad
Voicemail From Tweet Bot 36
Guest - Tiny Tim
Rachael O'Malley
Guest - Eddie Medina
"Hey Eddie, Whad'ya Know" Ninja Turtle Edition
Follow us on Social Media
You can call us and leave a funny voicemail at 806-680-6373. We might even play it on air if your lucky.