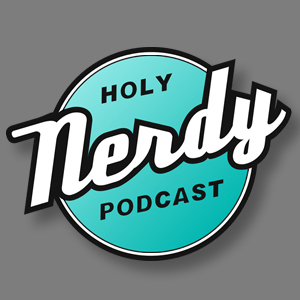 On this episode of the Holy Nerdy Podcast, it's the last episode of 2018, and we have a myriad of topics to wrap up before we move onto 2019 and all it has to offer. First up Caleb had a bit of computer issues throughout the holiday season and he's got a tale to spin about that. The new year wouldn't be complete without some New Year's resolutions and Caleb has a doozie of a resolution that spawns some laughs. Finally, we talk about what we got for Christmas this year including a gift that I spent about half a year on that Caleb describes as, "one of the greatest gifts he has ever received."
TOPICS
Caleb's Holiday Computer Woes
Thanks Captain Obvious
It's A Christmas Miracle
Caleb's "Manly" New Year's Resolution
"It's A Beet Ball Caddy"
I Play Santa Again This Year
Caleb's Reaction Video (Audio) Opening My Gift
"Best Gift Ever!" ("Besides His Kids Of Course")
Caleb Is Swimming In Legos At This Point
Caleb Is Preparing For Alexa's Eventual Takeover
Before That Though, Some Prince
Wrap Up
Follow us on Social Media
You can call us and leave a funny voicemail at 806-680-6373. We might even play it on air if your lucky.