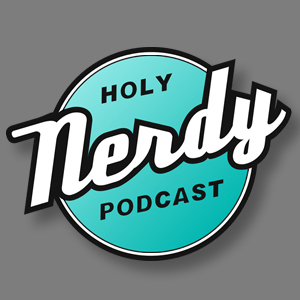 On this episode of the Holy Nerdy Podcast, we are both recovering from the holiday season and we reveal what Santa left for us underneath our trees! This time of year is always a magical one, whether it's getting, (or not) that one gift you've had your eyes on all year, or office holiday parties where they roast you for having a podcast (again). This season always makes us feel like kids again, which is why we decided to end the episode reminiscing about the most memorable Christmas from our own childhoods.
TOPICS
Recovering From The Christmas Holiday
Cool And Not So Cool Gifts
I Just Wanted A Belt!
We Are Turning Into A Bunch Of Old Men In Regards To These Gifts
Caleb Got A PS4 And Wasn't Impressed!
Catching Up On Our Binge Watching
My Office Holiday Roast Party
Podcast Housecleasning
The Best Christmas Ever!!
Mighty Max Toys
Sega Genesis
Teenage Mutant Ninja Turtles Toys
Home Alone Talk Boy Voice Recorder
Being An Adult Sucks
Ren & Stimpy Adult Party Cartoon Bonus Episodes
Caleb and I are currently preppring for our next "Bonus" episode detailing the history as well as audio commentary of the short lived and hugely divisive series featuring our favorite psychotic chihuahua and dimwitted cat, The Ren & Stimpy: Adult Party Cartoon. This next episode containing more history as well as commentary on the next episode in the series will be released as soon as we hit 10 Reviews on ITunes. Additional episodes after that will be released at 10 review intervals until we complete the animated series. We are really looking forward to these bonus episodes. We have done our homework and have compiled a treasure trove of backstory and history on creator John Kricfalusi including introductions for each episode from John K. himself.
Follow us on Social Media
You can call us and leave a funny voicemail at 806-680-6373. We might even play it on air if your lucky.