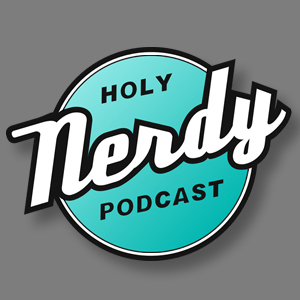 On this episode of the Holy Nerdy Podcast, we are recovering from a very eventful weekend of Super Dragon Ball sized proportions. I am talking about KamehaCon. This was the first ever Dragon Ball centric convention in history and we are here to tell you about our experience. We met some of our childhood heroes as well as some other very cool people. We were even witness to some never before seen events. The fun didn't end when the Con was over either as Caleb spent an hour and a half Monday getting up close and personal with the fine folks from TSA before his flight home.
TOPICS
Our KamehaCon 2018 Experience
Friday Fun
Saturday Shenanigans
Sunday Surprises
TSA Shakedown
Rob Liefeld And Jim Lee Hilarity
Ren & Stimpy Adult Party Cartoon Bonus Episodes
Caleb and I are currently preppring for our next "Bonus" episode detailing the history as well as audio commentary of the short lived and hugely divisive series featuring our favorite psychotic chihuahua and dimwitted cat, The Ren & Stimpy: Adult Party Cartoon. This next episode containing more history as well as commentary on the next episode in the series will be released as soon as we hit 10 Reviews on ITunes. Additional episodes after that will be released at 10 review intervals until we complete the animated series. We are really looking forward to these bonus episodes. We have done our homework and have compiled a treasure trove of backstory and history on creator John Kricfalusi including introductions for each episode from John K. himself.
Due to the recent allegations involving John Kricfalusi, we have decided to release the remaining episodes in this series for free. Stay tuned for those bonus episodes in the near future.
Follow us on Social Media
You can call us and leave a funny voicemail at 806-680-6373. We might even play it on air if your lucky.